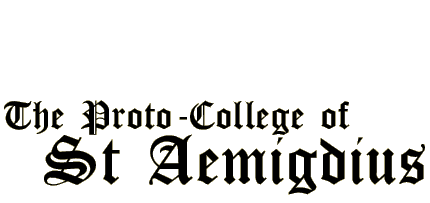 Regnum/Contacts

Council Meetings
Meetings of the College officers take place on the first Monday of each month, at 7:15pm.
Minutes from Council Meetings, including the IGM, are available here.
Club Constitution
Our mundane constitution can be found here.

Shire of Darton
Seneschal
In charge of the organisation of the Shire.
Email the Seneschal.
Regnum of the Shire of Darton.
Kingdom of Lochac
King and Queen
Email Their Majesties.
Their Majesties' web pages.

Kingdom Seneschal
In charge of the organisation of the Kingdom.
Email the Kingdom Seneschal.

Regnum of the Kingdom of Lochac.

The Regnum is the list of officers for the College. Unfortunately, because the College is not currently active, this list of contacts may well be out of date. You may have more luck contacting the Shire of Darton, here.

If you are interested in taking up or learning more about a vacant position, please contact the Seneschal. A very basic list of job descriptions is available here (30 KB Word document).

Seneschal
The president, in charge of organisation and coordination of St Aemigdius.
Ioannes Varangopoulos
Email the Seneschal

Chatelaine (deputy to the Seneschal)
In charge of recruiting and helping new members.
Currently Vacant
Email the Chatelaine

Secretary
Handles paperwork and takes minutes at meetings.
Essyllt verch Edenevet
Email the Secretary

Reeve
Handles financial matters for the group.
Hans
Email the Reeve

Herald
Keeps track of awards, and assists gentles research and register their names and devices, as well as making announcements at events.
Ulrich von Mannheim
Email the Herald

Marshal
Responsible for the safety and promotion of Combat activities in St Aemigdius.
Diego of Darton
Email the Marshal

Arts and Sciences
Organises and promotes Arts and Sciences classes and competitions.
Jennett de la Montaigne
Email the Arts and Sciences Officer

Constable
Responsible for group and site safety and lost property.
Currently Vacant
Email the Constable

Cultural Council Representative
Represents St Aemigdius to the Victoria University Student Associaion.
Corinna Roussin
Email the Cultural Council Representative


Chronicler
Produces the newsletter of the group.
Currently Vacant
Email the Chronicler

Chirugeon
In charge of first aid at events.
Currently vacant
Email the Chirugeon

Lists
Organises fighting order in tournaments and records results of the tournament.
Currently vacant
Email the Lists Officer

Webscribes (deputies to the Seneschal)
Update and maintain St Aemigdius's Web pages.
Ulrich von Mannheim and Essyllt verch Edenevet
Email the Webscribes! Please! Otherwise they will get lonely.