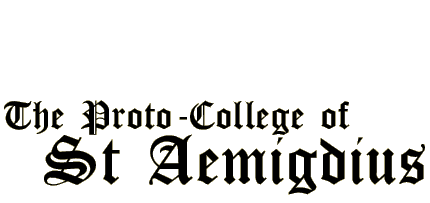 Order of Precedence
The Order of Precedence (OP) lists the various awards given out by the Crown in recognition of an individual's contribution to the College or Kingdom.
If there are any problems with your listing -- an incorrect spelling, a missing award -- please contact the webscribe. If you want to find out what can be given, see this page on Lochac's awards. If one of these awards seems appropriate for someone you know, but is not listed here, consider recommending them for an award. The Barony of Southron Gaard has information about how to do this here (but of course there's no need to cc the B&B of Southron Gaard for St Aemigdius award recommendations!).
Other OPs which might prove to be of interest are the Darton Order of Precedence, the Crescent Isles Order of Precedence, and the Lochac Order of Precedence (Canon Lore).
---
Name
Awards and Honours
Armory

Essyllt verch Edenevet
Hanna Mason

Golden Tear, 18th November, A.S. XLIV
Award of Arms, 3rd February, A.S. XLII

Ulrich von Mannheim
Matt Oswin

Golden Sword, 4th February, A.S. XLIV
Wreath of Chivalry, 2nd May, A.S. XLIV
Wreath of Valour, 10th May, A.S. XLIII
Award of Arms, 10th May, A.S. XLIII

Jennett de la Montaigne
Anna Stuart

Golden Lily, 2nd February, A.S. XLV
Award of Arms, 10th July, A.S. XLV

Thomas "Dons' Bane" of Darton
Tom Cole

Provost of Lochac, 11th May, A.S. XLIII
Award of Arms, 11th May, A.S. XLIII

Ioannes Varangopoulos
Chris de Lisle

Award of Arms, 18th November, A.S. XLIV

Corinna Roussin
Gabrielle Wright

Award of Arms, 4th February, A.S. XLIV

Diego Alonso Morena
Ben Wells

Silver Helm, 4th Feburary, A.S. XLV
Award of Arms, 10th July, A.S. XLV